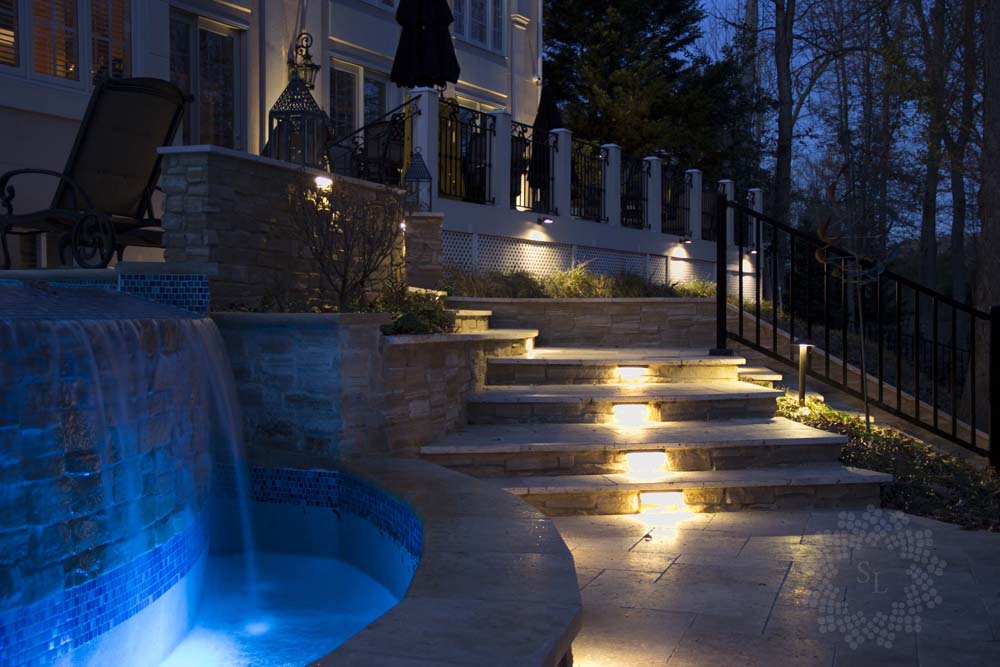 We're all familiar with the pale white glow of traditional outdoor lighting options, but what about the increasing popularity of lighting with other colors? Today, colored lighting isn't just for celebrating holidays or special occasions. Using filters with outdoor lighting systems gives you the option of adding ambiance to different outdoor spaces, depending upon the mood you wish to create – no matter the time of year.
---
How do Colored Filters Work?
Lighting filters are thin sheets of plastic designed to be placed in front of a light source to change the color of white light to another to further customize your outdoor LED lights. They are known for helping produce visually stunning effects.
From subtle to bold, filters are available in a variety of colors to transform any area and give your property a modern update. Use colored filters to help set a mood, create an area of interest, highlight an architectural feature, or add a wash of color. Imagine changing the lighting colors around your water features or landscaping with a soft colored glow to create elegance and style. The options are endless!
Select Colors Based on the Latest Research… or Just for Fun!
Ample research has been done to figure out what effects colors have on mood, circadian rhythms and sleep, alertness for vehicle drivers or employees, and much more. For example, blue light may increase alertness, while red is associated with feelings of love, warmth, and comfort.
Not interested in using colors for practical reasons? Maybe you simply aspire to turn your outdoors into a purple dungeon on Halloween, or light up the garage red, white, and blue on July 4th. Or, maybe what you have in mind is centered more on an elegant year-round look to beautify your home and garden.
Whatever your vision, colored filters can help you craft an expressive nightscape you will be proud to show off!
Professionally Designed Lighting vs. DIY
DIY project ideas that try to replicate color filters can produce harsh or overly strong results, and often create an unreal look. Outdoor lighting is an art! If you feel over your head, consider talking to a professional lighting company. They will be able to advise you on the ins and outs of colored lighting options so that all your outdoor lighting blends cohesively – and aesthetically.
Call in the Lighting Professionals
If you're thinking about installing outdoor lighting, consider the benefits of relying on the outdoor lighting services of a professional. Professionals have the knowledge and expertise to know the best types of lights to use, how many to install, and where to position them, so you get the greatest benefits.
---
Dusk to Dawn Outdoor LED Lighting Professionals are Here for You
The professionals at Dusk to Dawn Outdoor Lighting are here to help you achieve your outdoor lighting goals. We have the knowledge and expertise to handle any size project and are ready to talk to you.
Register with the form on this page to receive emails. Stay up to date with the latest design trends and outdoor lighting advice from the experts. Don't worry, we won't flood your inbox or sell your information.
Download our Lookbook. See how professionally designed outdoor lighting can make a difference to your home and property.
Contact us for a Free Consultation. There's no time like right now to add beauty, safety, style, and value to your home. We're ready to talk to you, and it won't cost you a dime!
About Dusk to Dawn
Dusk to Dawn is a premier, family-owned St. Louis business serving the greater St. Louis region and beyond. We are one of the only outdoor lighting companies to exclusively use low-voltage LED outdoor lighting systems. With the knowledge and expertise needed for designing and installing outdoor lighting, we work closely with clients to couple their dream with our design and installation expertise. The result is a thoughtful outdoor lighting experience that is stunning and innovative as well as functional and efficient.
Never compromising quality and efficiency and always respecting our client's time and dollars, our goal is to provide you with the best commercial and residential outdoor lighting.