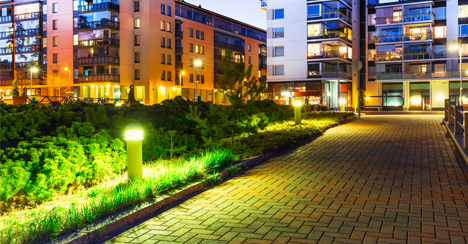 Nothing shows off a business or property better after dark than the right lighting. While there are do-it-yourself solutions at every price point, consider the benefits of hiring a professional lighting company to take care of designing, installing, and maintaining your lighting system. 
Commercial LED Outdoor Lighting Design Experience
When it comes to designing your outdoor lighting solution, a professional lighting company brings a lot to the table. These professionals know where to position lights, what type and style of lights to choose for each area, and how to position them so that your business and property not only look welcoming at night but are safe and secure.
A good professional lighting company will take the time to listen to your ideas and combine them with their experience to create an outdoor lighting design that transforms your property, reflecting the pride you have in your business – no matter the time of day.
Installation Know-How & Expertise
Professional LED outdoor lighting crews are fully trained and experienced in the installation of outdoor lighting. Keep in mind that it's dangerous to work with electricity if you don't have the experience. A professional lighting company knows the ins and outs of wiring, fixtures, transformers, and timers. The professionals will also know how to make sure your system is installed to code and will handle any inspections.
Will your outdoor lights be installed high on your building? Do you have obstacles on your property that need to be considered? A professional lighting company has the necessary equipment and will know how to work in any field condition and handle obstructions. When you hire professionals, you can rest assured that your commercial outdoor lighting system will be properly and safely installed.
Premier Outdoor Lighting Parts
Professional lighting companies have access to products that aren't available in stores. When you work with a professional lighting team, you can take advantage of their in-depth knowledge about the systems and parts they offer. They can tell you about the different benefits and explain any drawbacks, so you can make an informed decision. By getting rid of the guess work, you can rest assured knowing that you've chosen a quality lighting package to fit your needs.
Don't be shy! If you are like most business owners, you have a budget and a bottom line to think about. A professional lighting company that is accustomed to meeting budgets can offer lighting solutions at affordable prices without sacrificing quality.
Quick Installation & Follow Up
During the installation process, your property and business should be respected and the installation crew should be unobtrusive, so your business doesn't experience downtime. Once your outdoor lighting installation is complete, a professional lighting company should follow up with you and make adjustments and changes you may want.
Worry Free Outdoor Lighting Care
After your outdoor lighting system is installed, you want it to work year after year. From lawn care to weather and everything in between, there are a number of unplanned events that can take a toll on the placement and wiring of outdoor lighting system. Occasionally things get broken. To ensure that your lights continue to function properly, professional lighting companies often provide annual maintenance programs and installation warranties to ensure your satisfaction and help care for your lighting investment.
---
Dusk to Dawn Outdoor LED Lighting Professionals are Here for You
The professionals at Dusk to Dawn Outdoor Lighting are here to help you achieve your outdoor lighting goals. We have the knowledge and expertise to handle any size project and are ready to talk to you.
Register with the form on this page to receive emails

. Stay up to date with the latest design trends and outdoor lighting advice from the experts. Don't worry, we won't flood your inbox or sell your information.
Download our Lookbook

. See how professionally designed outdoor lighting can make a difference to your home and property.
Contact us for a Free Consultation

. There's no time like right now to add beauty, safety, style, and value to your home. We're ready to talk to you, and it won't cost you a dime!
About Dusk to Dawn
Dusk to Dawn is a premier, family-owned St. Louis business serving the greater St. Louis region and beyond. We are one of the only outdoor lighting companies to exclusively use low-voltage LED outdoor lighting systems. With the knowledge and expertise needed for designing and installing outdoor lighting, we work closely with clients to couple their dream with our design and installation expertise. The result is a thoughtful outdoor lighting experience that is stunning and innovative as well as functional and efficient. 
Never compromising quality and efficiency and always respecting our client's time and dollars, our goal is to provide you with the best commercial and residential outdoor lighting.