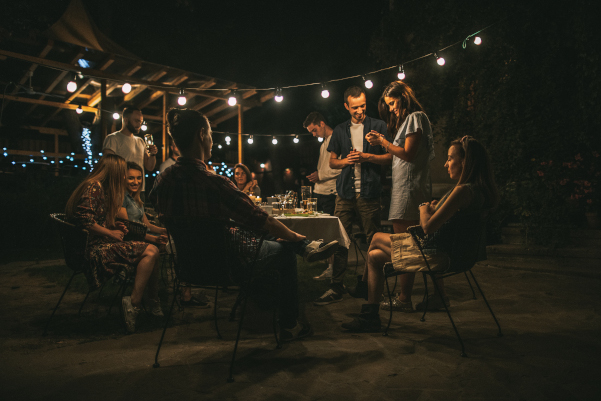 Outdoor bistro lighting and small lights belong in a magical category of lighting. When you add this kind of lighting to your outdoor living zones, you bring out the space's full potential and breathe new life into it with that extra "something" that these lights offer.
Imagine completely transforming a space's aesthetic with bistro lights, fairy lights, globe string lights, or twinkle lights. Combine them with small lamps and other small lights at more frequent intervals to create the perfect ambiance and communicate a look that brings romance, beauty, and elegance into your outdoors.
How Outdoor Lighting Creates Romance
Lighting is one of the most important influences when creating a mood. Contemplate the following when planning your outdoor lighting scheme:
Color – consider lights in soft, warm colors that mimic a sunset. Imagine creating a warm feeling with a soft, pink light.
Brightness – think about adding dimmers on your lights so you can lower the glow. Imagine recreating the warm glow from a candle.
Contrast – consider softening transitions from light to dark. Imagine using shadows to shift from darkness to a very softly lit sitting or eating areas.
Because of their smaller size, bistro lighting and small lights help create feelings of romance. This intimate aesthetic works beautifully in dining areas, offering a look reminiscent of a French café and encouraging anyone in the glow to linger over a meal and indulge in conversations.
What Makes Outdoor Bistro Lighting So Enchanting?
Outdoor bistro lighting and small lights also create those enchanting environments perfect for small gathering areas, garden weddings, a dinner for two by the pool, and spontaneous romantic moments of all kinds.
With many smaller lights casting a myriad of faint shadows, everything comes alive. Light softly filtering through trees, foliage, water or other natural elements adds depth and movement to the atmosphere.
Low light levels soften the edges of a room and engage your imagination. Hang them high to replicate the look of twinkling stars at nighttime. Add other sensory elements like soft music, a glass of wine, and a warm breeze for a perfectly unforgettable and magical moment.
So, sit back and transform your home, porch, patio, or garden into the ideal setting for love to bloom.
Call in the Lighting Professionals
If you're thinking about installing outdoor lighting, consider the benefits of relying on the outdoor lighting services of a professional. Professionals have the knowledge and expertise to know the best types of lights to use, how many to install, and where to position them, so you get the greatest benefits.
---
Dusk to Dawn Outdoor LED Lighting Professionals are Here for You
The professionals at Dusk to Dawn Outdoor Lighting are here to help you achieve your outdoor lighting goals. We have the knowledge and expertise to handle any size project and are ready to talk to you.
Register with the form on this page to receive emails. Stay up to date with the latest design trends and outdoor lighting advice from the experts. Don't worry, we won't flood your inbox or sell your information.
Download our Lookbook. See how professionally designed outdoor lighting can make a difference to your home and property.
Contact us for a Free Consultation. There's no time like right now to add beauty, safety, style, and value to your home. We're ready to talk to you, and it won't cost you a dime!
About Dusk to Dawn
Dusk to Dawn is a premier, family-owned St. Louis business serving the greater St. Louis region and beyond. We are one of the only outdoor lighting companies to exclusively use low-voltage LED outdoor lighting systems. With the knowledge and expertise needed for designing and installing outdoor lighting, we work closely with clients to couple their dream with our design and installation expertise. The result is a thoughtful outdoor lighting experience that is stunning and innovative as well as functional and efficient.
Never compromising quality and efficiency and always respecting our client's time and dollars, our goal is to provide you with the best commercial and residential outdoor lighting.