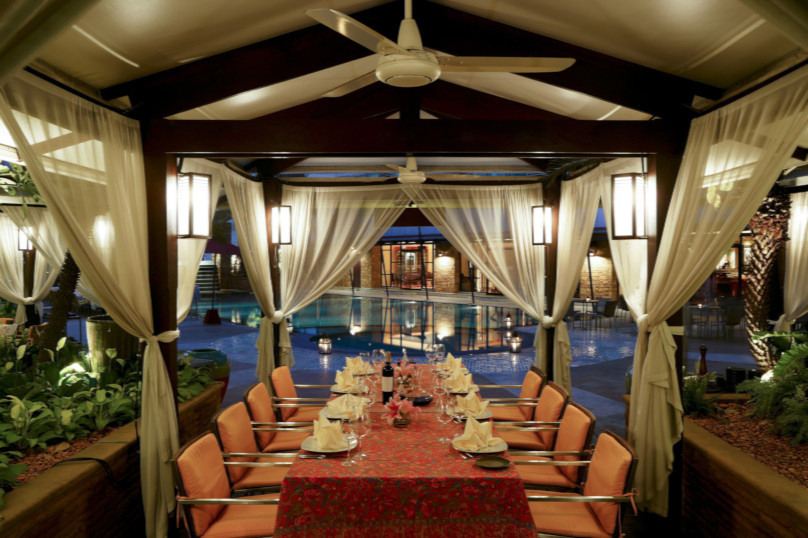 Today, many people are looking for ways to increase their living space. One of the easiest ways to do this is by opening your door and taking advantage of the outdoors. With the addition of outdoor living areas with lighting, you and your loved ones can enjoy your yard no matter the time of day.
But how do you continue your indoor style outdoors? It might seem hard, but it's much easier than you might think.
Bringing Indoor Styles to Outdoor Lighting
How much time did you spend selecting paint colors for your walls and furniture to fill your rooms? How long did you deliberate over the hardware on your cabinets? Think about all the choices you made. Then, simply make similar decisions when selecting a color palette, fabric, and hardware for your outdoor space(s).
The same is true for your outdoor lighting selections. If your style is formal inside, choose more formal lighting for your outdoor space. Likewise, if you lean toward a more casual vibe, select outdoor lighting that evokes a more relaxed atmosphere.
By following the same style both indoors and outdoors, you will create a seamless flow and blur the lines between your indoor and outdoor living zones.
Clean Lines
Clean lines are most commonly used in contemporary, modern, and minimalist design. If this is your decorating style, add lighting with clean lines to your outdoor spaces to give them a modern vibe. Choose lighting with clean lines that is also accented by smooth polished surfaces and open spaces to make a quiet, contemporary statement.
If you design with a modern aesthetic, incorporating lighting with clean lines in your outdoor spaces will create a unified look. It's also another way that you can bring your indoor styles outdoors.
Chandeliers Outdoors
A chandelier is a hanging light with branches or places for light bulbs. Indoors, chandeliers are usually hung in entryways, dining rooms, and even in bathrooms. Their formality adds sophistication and drama.
Outdoors, chandeliers can hang almost anywhere. But they are most commonly seen in eating areas, gazebos, arbors, or at the front entryway. When you are choosing a chandelier, think about the mood you wish to create. Even though they still give a sense of formality, there are many different styles that range from simple to intricate.
To seamlessly blend your outdoors with your indoors, choose a chandelier that matches your interior decorating style. It's yet another way you can carry your indoor styles outdoors.
LED Outdoor Lights
LEDs are a great option for outdoor lighting. They are low-voltage and provide greater energy efficiency, superior performance, and longevity. Choosing brass fixtures for your LED outdoor lighting systems give LED bulbs even longer life because the metal pulls heat away from the bulb. The LED/brass combination means your lights will perform in extreme heat and excessive cold without glass breaking or lamps burning out. All of this translates to cost savings and less worry for you.
Call on Outdoor Lighting Designers
If you're thinking of bringing your indoor style to your outdoor lighting, consider the benefits of hiring an outdoor lighting company. Professionals will you provide both lighting design and installation as well as maintenance. They have the experience and expertise to know the most appropriate types of lights to use, how many to install, and how they should be positioned, so you get the greatest benefits.
---
Dusk to Dawn Outdoor LED Lighting Professionals are Here for You
The professionals at Dusk to Dawn Outdoor Lighting are here to help you achieve your outdoor lighting goals. We have the knowledge and expertise to handle any size project and are ready to talk to you.
Register with the form on this page to receive emails. Stay up to date with the latest design trends and outdoor lighting advice from the experts. Don't worry, we won't flood your inbox or sell your information.
Download our Lookbook. See how professionally designed outdoor lighting can make a difference to your home and property.
Contact us for a Free Consultation. There's no time like right now to add beauty, safety, style, and value to your home. We're ready to talk to you, and it won't cost you a dime!
About Dusk to Dawn
Dusk to Dawn is a premier, family-owned St. Louis business serving the greater St. Louis region and beyond. We are one of the only outdoor lighting companies to exclusively use low-voltage LED outdoor lighting systems. With the knowledge and expertise needed for designing and installing outdoor lighting, we work closely with clients to couple their dream with our design and installation expertise. The result is a thoughtful outdoor lighting experience that is stunning and innovative as well as functional and efficient.
Never compromising quality and efficiency and always respecting our client's time and dollars, our goal is to provide you with the best commercial and residential outdoor lighting.