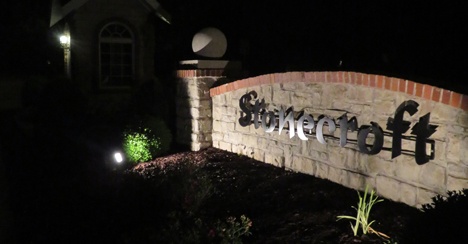 No matter your type of business, if you have an entrance with signage and landscaping features, why not make it a Grand Entrance with professional commercial LED lighting that says, "Welcome, we want you to come in and stay a while"?
Installing the right outdoor lighting adds incredible curb appeal by bringing out the full potential of your building's exterior, special features, and your business offerings. This will set your business apart from the rest and make your business competitive in the market.
---
Showcase the Exterior Aesthetic of Your Business
Low-voltage LED architectural lighting adds the perfect glow and drama to your property's exterior to create the ultimate in grace and artistry. Focused beams of light can enhance architectural details and features like grand doorways, pillars, arches, domes, sculpture, water or landscaping features, or unique materials such as wrought iron or polished stone.
Light can be used to enhance or create effects or ambiance. Depending upon your brand identity, your entrance can create a feeling of grandeur and refinement or suggest coziness or the friendliness of a small, close-knit community.
Increase Visibility with a "Grand Entrance"
Creating the look of a grand entrance does wonders for the aesthetic of your business's exterior and increases the visibility of your business. By doing so, you reap a lot of benefits:
Catch the eyes off passersby and make a striking first impression, no matter the time of day
Enhance your property's curb appeal and increase property value
Make your business's name and location memorable to potential and returning customers
Help customers find your business, especially if located off the beaten path
Promote the name of your business (even after closing for the day)
Give your property a face lift to a more modern aesthetic
Stand out from neighboring businesses and gain a competitive edge
Create a look that aligns with your brand, lets the community know that you take pride in your business, and welcome people into the local area.
Increase Traffic & Sales
Because of the increased visibility and other points mentioned above, professionally installed LED lighting in your entrance helps grow the number of customers that come through your door – and by extension, sales.
Not only that, the right entrance lighting helps create a positive experience for your customers and inspires feelings of engagement and trust in your brand. You've primed them for purchasing and for return visits.
Set the Tone & the Mood
Professionally installed LED lighting at the entrance of your business helps make it feel more welcoming and safe. In fact, many shoppers will avoid poorly lit businesses because they feel dangerous.
Entrance lighting can set the mood of your restaurant or bar as well. As customers enter this relaxing atmosphere, they want to linger and spend more on food, drinks, and dessert, giving you a higher profit.
Call in the Lighting Professionals
If you're thinking about installing outdoor lighting, consider the benefits of relying on the outdoor lighting services of a professional. Professionals have the knowledge and expertise to know the best types of lights to use, how many to install, and where to position them, so you get the greatest benefits.
---
Dusk to Dawn Outdoor LED Lighting Professionals are Here for You
The professionals at Dusk to Dawn Outdoor Lighting are here to help you achieve your outdoor lighting goals. We have the knowledge and expertise to handle any size project and are ready to talk to you.
Register with the form on this page to receive emails. Stay up to date with the latest design trends and outdoor lighting advice from the experts. Don't worry, we won't flood your inbox or sell your information.
Download our Lookbook. See how professionally designed outdoor lighting can make a difference to your home and property.
Contact us for a Free Consultation. There's no time like right now to add beauty, safety, style, and value to your home. We're ready to talk to you, and it won't cost you a dime!
About Dusk to Dawn
Dusk to Dawn is a premier, family-owned St. Louis business serving the greater St. Louis region and beyond. We are one of the only outdoor lighting companies to exclusively use low-voltage LED outdoor lighting systems. With the knowledge and expertise needed for designing and installing outdoor lighting, we work closely with clients to couple their dream with our design and installation expertise. The result is a thoughtful outdoor lighting experience that is stunning and innovative as well as functional and efficient.
Never compromising quality and efficiency and always respecting our client's time and dollars, our goal is to provide you with the best commercial and residential outdoor lighting.