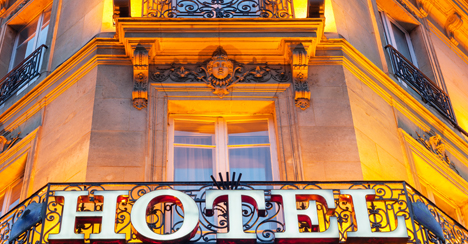 You've worked hard to make sure customers have the right first impression of your business. During the daytime, your building and landscaping are bathed in sunlight. But what about after darkness falls? Strategically lighting up the exterior of your business helps give dimension to the building as well as the landscape surrounding it. It adds a WOW! factor that gives current clients as well as potential customers an unforgettable impression.
Architectural Lighting Installers Focus Attention on Your Business
Brightening up your building's exterior after dark isn't about flooding it with light. When thoughtfully designed, architectural and landscape lighting go hand-in-hand to give a building drama and style. It adds the perfect glow to your business's façade, making it stand out from others in the area and creating a statement.
There's no limit to the effects that you can achieve from properly placed lights. Focus on the texture that brick, stone, and metalwork gives your building's exterior. Think about unique structures and unusual lines that make your building different from others. Your business will have a completely new look and feel after the sun sets.
Architectural lighting can be used to:
Emphasize striking features and unusual architectural lines
Accent unique structures
Craft silhouettes
Eliminate shadows
Notes of caution:
Be careful when placing lights so you don't create light pollution.
Be careful not to create glares that might disrupt staff who work after dark or that might obstruct the vision of patrons who visit your establishment.
Outdoor Architectural Lighting Styles
Outdoor lighting styles – just like interior design styles – are numerous. There's no one size fits all. From minimalist to sophistication, we guarantee there's an affordable outdoor architectural lighting style to fit your business' unique brand and goals.
One exciting advantage of today's outdoor lighting is that this lighting style can be just as decorative as your indoor lighting scheme.
Low-Voltage LED Outdoor Lights Offer Cost Savings
As a business owner your eye is always on the bottom line. Low-voltage LED lights last longer than any light on the market and give off very low heat. Because they are energy efficient, you'll see the benefit on your electric bills.
When LED lights are combined with brass fixtures, they have even longer life because the metal pulls heat away from the bulb. The LED/brass combination means your lights will perform in extreme heat and excessive cold without glass breaking or lamps burning out.
Consider also the style and color variations and options available in LED lights, which have never been better or more attractive!
Call the Pros for Architectural 
Lighting Installation
If you're considering outdoor architectural lighting for your business, there are a number of benefits to hiring professional architectural lighting installers.  Professional installers have the knowledge and expertise to design with the best types of lights for your unique outdoor environment. They know how many to lights to install,  how they need to be positioned and how to maintain them, so you get the greatest benefits.
---
Dusk to Dawn Outdoor Lighting Company Is Here for You
The professionals at Dusk to Dawn Outdoor Lighting are here to help you achieve your outdoor lighting goals. We have the knowledge and expertise to handle any size project and are ready to talk to you.
Register with the form on this page to receive emails. Stay up to date with the latest design trends and outdoor lighting advice from the experts. Don't worry, we won't flood your inbox or sell your information.
Download our Lookbook. See how professionally designed outdoor lighting can make a difference to your home and property.
Contact us for a Free Consultation. There's no time like right now to add beauty, safety, style, and value to your home. We're ready to talk to you, and it won't cost you a dime!
About Dusk to Dawn
Dusk to Dawn is a premier, family-owned St. Louis business serving the greater St. Louis region and beyond. We are one of the only outdoor lighting companies to exclusively use low-voltage LED outdoor lighting systems. With the knowledge and expertise needed for designing and installing outdoor lighting, we work closely with clients to couple their dream with our design and installation expertise. The result is a thoughtful outdoor lighting experience that is stunning and innovative as well as functional and efficient.
Never compromising quality and efficiency and always respecting our client's time and dollars, our goal is to provide you with the best commercial and residential outdoor lighting.