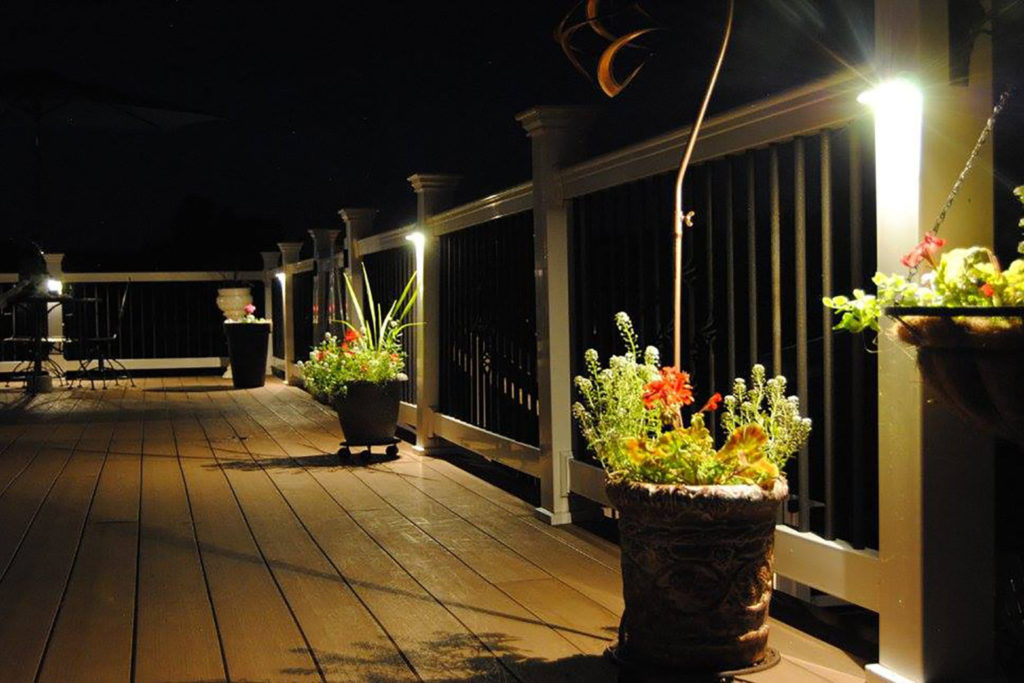 Decks and docks are places where family and friends gather. Having good lighting on these structures during the night is essential to ensure that your loved ones are safe. Lighting also helps to deter would-be intruders from these areas. The right lighting dresses up decks and docks to give them a completely different look after the sun goes down.
LED Low-Voltage Outdoor Lighting
LEDs are a great option for deck and dock lighting. They are low-voltage and provide greater energy efficiency, superior performance and brighter illumination, and longevity. Choosing brass fixtures for your LED outdoor lighting systems give LED bulbs even longer life because the metal pulls heat away from the bulb. The LED/brass combination means your lights will perform in extreme heat and excessive cold without glass breaking or lamps burning out. All of this translates cost savings and less worry for you.
When installing lights around water, it's essential to use wet-rated lighting fixtures. These fixtures have waterproof seals to protect internal components from water and prevent leaks.
Deck Lighting Options
Subtle lighting on your deck helps you get more use and enjoyment out of your outdoor space no matter the time of day. Deck lighting varies in style and ranges from simple to intricate.
The right lighting brightens doorways and steps for safety and defines perimeters. Consider colored-lighting for a party-like atmosphere. If you like to look at the stars, install dimmers so that you can lower the lights to enjoy the night sky.
Some options for deck lighting include:
Mounted deck lights
Post lights
Cap lights
Rail lighting
Step lighting
Much more
Dock Lighting Options
Add lighting around your dock to safely maneuver your boat in and out of its space at night. Because of the wet and harsh nature of the marine environment, look for lights that feature heavy duty construction. Install lights on steps, on walkways, and on posts for safety and to add glamour.
Some options for dock lighting include:
Mounted dock lights
Strip lights
Swing-arm mounted lights
Underwater lights
Much more
Call on Professional Landscape Lighting Companies
If you want to enhance your deck or dock with outdoor lighting, consider the benefits of relying on the expertise of landscape lighting companies. Professionals have the knowledge and experience to know the best types of lights to use, how many to install, and how they should be positioned, so you get the greatest benefits.
---
Dusk to Dawn Outdoor LED Lighting Professionals are Here for You
The professionals at Dusk to Dawn Outdoor Lighting are here to help you achieve your outdoor lighting goals. We have the knowledge and expertise to handle any size project and are ready to talk to you.
Register with the form on this page to receive emails. Stay up to date with the latest design trends and outdoor lighting advice from the experts. Don't worry, we won't flood your inbox or sell your information.
Download our Lookbook. See how professionally designed outdoor lighting can make a difference to your home and property.
Contact us for a Free Consultation. There's no time like right now to add beauty, safety, style, and value to your home. We're ready to talk to you, and it won't cost you a dime!
About Dusk to Dawn
Dusk to Dawn is a premier, family-owned St. Louis business serving the greater St. Louis region and beyond. We are one of the only outdoor lighting companies to exclusively use low-voltage LED outdoor lighting systems. With the knowledge and expertise needed for designing and installing outdoor lighting, we work closely with clients to couple their dream with our design and installation expertise. The result is a thoughtful outdoor lighting experience that is stunning and innovative as well as functional and efficient.
Never compromising quality and efficiency and always respecting our client's time and dollars, our goal is to provide you with the best commercial and residential outdoor lighting.