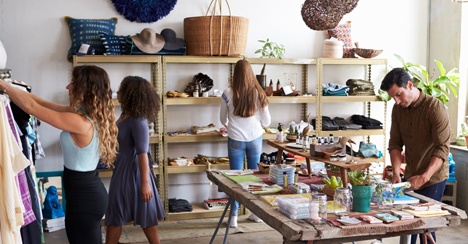 Elegant, inviting outdoor lighting is one of the best ways to show would-be customers where you are and attract them to your door. When you increase your business' visibility, you help grow the number of clients that come through your door – and by extension, your sales!
Installing the right outdoor lighting adds incredible curb appeal by bringing out the full potential of your building's exterior, special features, and your business offerings. This will set your business apart from the rest and make your business competitive in the market.
---
Outdoor LED Lighting for Increased Visibility
Catch the eyes of the passersby, make a striking first impression, and make your business memorable by increasing your business' visibility. No matter your type of business, people passing by your store will be more likely to come in if you have professionally designed commercial lighting that is warmly inviting, strikingly beautiful, intriguing, and above all, welcoming.
Professional outdoor lighting around your business' exterior also increases visibility into and on your property after the sun sets, so you can take advantage of increased business no matter the time of day. This helps customers find your business quickly (from foot traffic to customers who drive by) and promotes the name of your business even after you close for the day.
When the exterior of your building makes a lasting impression, the location of your establishment sticks out in the minds of potential and returning customers. And, if your location is off the beaten path, your business's outdoor lights will help people locate you.
Use LED Lighting to Increase Walk-In Traffic
Professionally installed LED lighting helps increase foot traffic and sales, but that's far from the end of its benefits. Did you know that shoppers avoid poorly lit businesses because they feel dangerous or unappealing. Professionally installed LED lighting helps make your business feel more welcoming and safe.
Safety & Security: Walk-in traffic will increase if your customers and visitors feel safe and secure after dark. It also protects your business from criminal activity. Eliminate fear of theft, prevent slips and falls, and encourage passersby to walk on in! Good lighting will guide customers up the stairs and lead patrons down intended pathways.
Energy Efficiency, Superior Performance, & Longevity: Because they are energy efficient, you will see lower electric bills with LEDs! LED lighting also shines brighter and the bulbs last longer that any other bulb on the market.
Environmentally Friendly: If your customers care about the environment, why not advertise the fact that you have chosen LEDs as part of your overall sustainability messaging to potential customers walking or driving by?
Express Your Brand to Increase Walk-In Traffic
When potential customers have mere seconds to walk or drive by your business, and decide about whether to stop, aesthetically pleasing lighting that matches your overall brand will give your business a competitive edge.
Low-voltage LED architectural lighting adds the perfect glow and drama to your property's exterior, making it stand out from neighboring businesses and creating a statement.
Not only that, the right lighting helps create a positive experience for your customers and inspires feelings of engagement and trust in your brand. You've primed them for purchasing and for return visits.
Lighting sets the mood of your restaurant or bar. When you provide customers with a relaxing atmosphere, you encourage guests to enter, linger and spend more, giving you a higher profit.
Call in the Lighting Professionals
If you're thinking about installing outdoor lighting, consider the benefits of relying on the outdoor lighting services of a professional. Professionals have the knowledge and expertise to know the best types of lights to use, how many to install, and where to position them, so you get the greatest benefits.
---
Dusk to Dawn Outdoor LED Lighting Professionals are Here for You
The professionals at Dusk to Dawn Outdoor Lighting are here to help you achieve your outdoor lighting goals. We have the knowledge and expertise to handle any size project and are ready to talk to you.
Register with the form on this page to receive emails. Stay up to date with the latest design trends and outdoor lighting advice from the experts. Don't worry, we won't flood your inbox or sell your information.
Download our Lookbook. See how professionally designed outdoor lighting can make a difference to your home and property.
Contact us for a Free Consultation. There's no time like right now to add beauty, safety, style, and value to your home. We're ready to talk to you, and it won't cost you a dime!
About Dusk to Dawn
Dusk to Dawn is a premier, family-owned St. Louis business serving the greater St. Louis region and beyond. We are one of the only outdoor lighting companies to exclusively use low-voltage LED outdoor lighting systems. With the knowledge and expertise needed for designing and installing outdoor lighting, we work closely with clients to couple their dream with our design and installation expertise. The result is a thoughtful outdoor lighting experience that is stunning and innovative as well as functional and efficient.
Never compromising quality and efficiency and always respecting our client's time and dollars, our goal is to provide you with the best commercial and residential outdoor lighting.