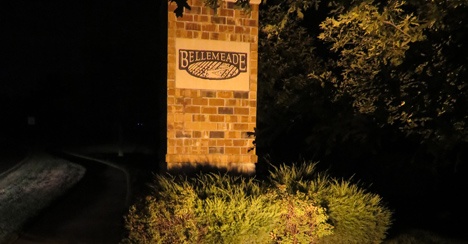 Large developers who are building neighborhoods and communities already know they need to make a great first impression to be competitive. Did you know that the right outdoor LED lighting for your real estate development not only attracts buyers but also shows the pride and care you have for the community?
By adding the professional lighting in and around the neighborhood you are developing, you create special ambiance that shows off the homes' stunning features and inspires buyers to call your community home sweet home.
---
Up Your Curb Appeal with Eye-Catching Results
Architectural and landscape lighting go together to create a graceful and artistic real estate development. Use strategically placed LED lights to add the perfect glow and drama to your property's exterior, making it stand out from neighboring homes or other properties the buyer may be considering.
Landscaping
Give prospective buyers an unforgettable first impression when they see the artistic beauty of your community's landscaping highlighted by the perfect illumination of well-placed lighting.
Use lights to draw curious eyes to your beautiful garden area, other foliage, or flags. Encourage buyers to appreciate water features by using lights to guide buyers along a stream's pathway or to illuminate the hardscape as water tumbles over the rocks.
Outdoor LED lighting around your growing community gives your development a "WOW!" factor buyers won't soon forget.
Architecture
With the help of professionally installed outdoor LED lighting, you can emphasize the striking architectural features and lines of the community's entrance and even the guard house. Architectural lighting helps potential buyers see the unique style of your model homes and how they stand out from other homes they might be considering.
Expand Your Space
With outdoor lighting you can show potential buyers how they can expand their home's living space to make the most of yard space, patios and porches, plantings, and pools.
Today's home buyer is looking for a community to be a part of. Use professionally installed LED outdoor lighting around neighborhood gathering areas and give homeowners a reason to come out and enjoy outdoor recreation areas no matter the time of day.
Give Your Property a Top-Dollar Look
There are a variety of modern lights and colors to choose from that will impress potential buyers. Consider incorporating trendy lighting styles around walkways and entryways to give your community a modern vibe that potential buyers will love.
Call in the Lighting Professionals
If you're thinking about installing outdoor lighting, consider the benefits of relying on the outdoor lighting services of a professional. Professionals have the knowledge and expertise to know the best types of lights to use, how many to install, and where to position them, so you get the greatest benefits.
---
Dusk to Dawn Outdoor LED Lighting Professionals are Here for You
The professionals at Dusk to Dawn Outdoor Lighting are here to help you achieve your outdoor lighting goals. We have the knowledge and expertise to handle any size project and are ready to talk to you.
Register with the form on this page to receive emails. Stay up to date with the latest design trends and outdoor lighting advice from the experts. Don't worry, we won't flood your inbox or sell your information.
Download our Lookbook. See how professionally designed outdoor lighting can make a difference to your home and property.
Contact us for a Free Consultation. There's no time like right now to add beauty, safety, style, and value to your home. We're ready to talk to you, and it won't cost you a dime!
About Dusk to Dawn
Dusk to Dawn is a premier, family-owned St. Louis business serving the greater St. Louis region and beyond. We are one of the only outdoor lighting companies to exclusively use low-voltage LED outdoor lighting systems. With the knowledge and expertise needed for designing and installing outdoor lighting, we work closely with clients to couple their dream with our design and installation expertise. The result is a thoughtful outdoor lighting experience that is stunning and innovative as well as functional and efficient.
Never compromising quality and efficiency and always respecting our client's time and dollars, our goal is to provide you with the best commercial and residential outdoor lighting.