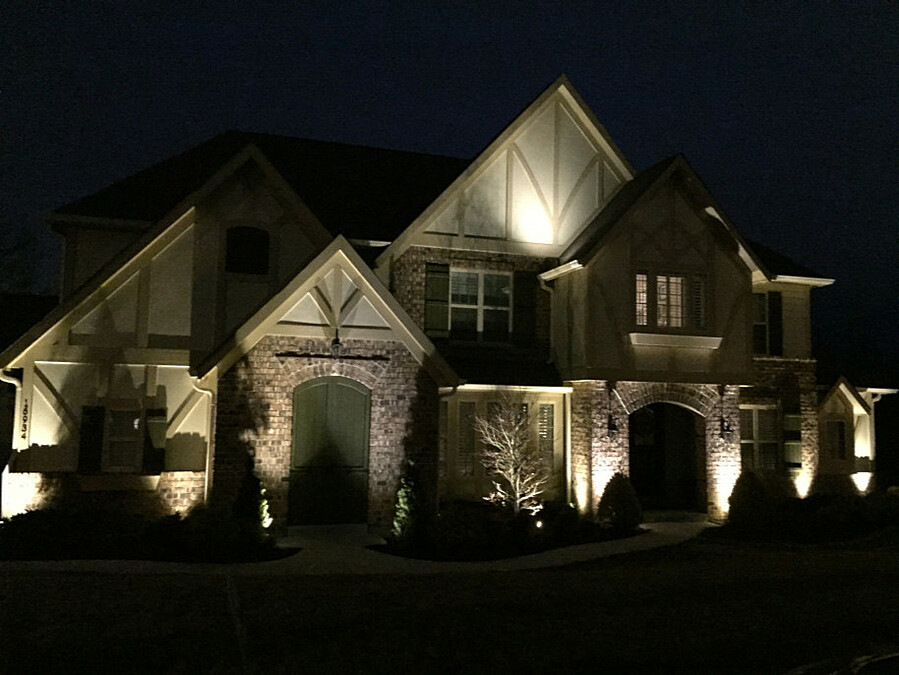 You and your family should feel safe and secure in your home. Did you know that one of the best ways to keep your home safe at night and deter possible intruders is by installing lighting around your home's exterior?
Outdoor lighting for safety and security means making sure that dark corners are well lit so that would-be criminals have nowhere to hide and are easy to spot. Safety also means making sure that obstacles – invisible in the darkness – are illuminated so that you, your family, and guests won't trip, slip, or fall.
When considering outdoor lighting for safety and security, think about the different areas around your home's exterior where more light will make a significant difference.
---
Landscaping & Walkways
Illuminate frequently used paths and walkways to reduce the chance of someone tripping and falling. Besides adding safety and security, lighting landscaping and walkways also adds style and elegance to you outdoor living areas.
Stairways, Entryways, & Addresses
Light stairways, so people won't miss steps and fall. A well-lit entryway not only welcomes guests but gives you the necessary visibility to see who is at the door.
Whether your address is on your mailbox or on your house, having it lit helps visitors and emergency personnel find you easily and quickly.
Porches, Decks, & Patios
Brighten these outdoor areas to eliminate dark corners and illuminate steps. By lighting your porch, deck, or patio, you not only improve your home's safety you also expand your living space, so you can enjoy these outdoor areas at all hours of the day.
Driveways & Backyards
Driveways and backyards are commonly lit with security flood lights and motion sensing lights. These lights are known for projecting long-range beams to cover sizable areas. Forget about security lights that are blindingly bright and ugly. Say hello to new LED security lights that shine bright, while offering energy efficiency, superior performance, and longevity.
Call in the Lighting Professionals
If you're thinking about installing outdoor lighting, consider the benefits of relying on the outdoor lighting services of a professional. Professionals have the knowledge and expertise to know the best types of lights to use, how many to install, and where to position them, so you get the greatest benefits.
---
Dusk to Dawn Outdoor LED Lighting Professionals are Here for You
The professionals at Dusk to Dawn Outdoor Lighting are here to help you achieve your outdoor lighting goals. We have the knowledge and expertise to handle any size project and are ready to talk to you.
Register with the form on this page to receive emails. Stay up to date with the latest design trends and outdoor lighting advice from the experts. Don't worry, we won't flood your inbox or sell your information.
Download our Lookbook. See how professionally designed outdoor lighting can make a difference to your home and property.
Contact us for a Free Consultation. There's no time like right now to add beauty, safety, style, and value to your home. We're ready to talk to you, and it won't cost you a dime!
About Dusk to Dawn
Dusk to Dawn is a premier, family-owned St. Louis business serving the greater St. Louis region and beyond. We are one of the only outdoor lighting companies to exclusively use low-voltage LED outdoor lighting systems. With the knowledge and expertise needed for designing and installing outdoor lighting, we work closely with clients to couple their dream with our design and installation expertise. The result is a thoughtful outdoor lighting experience that is stunning and innovative as well as functional and efficient.
Never compromising quality and efficiency and always respecting our client's time and dollars, our goal is to provide you with the best commercial and residential outdoor lighting.