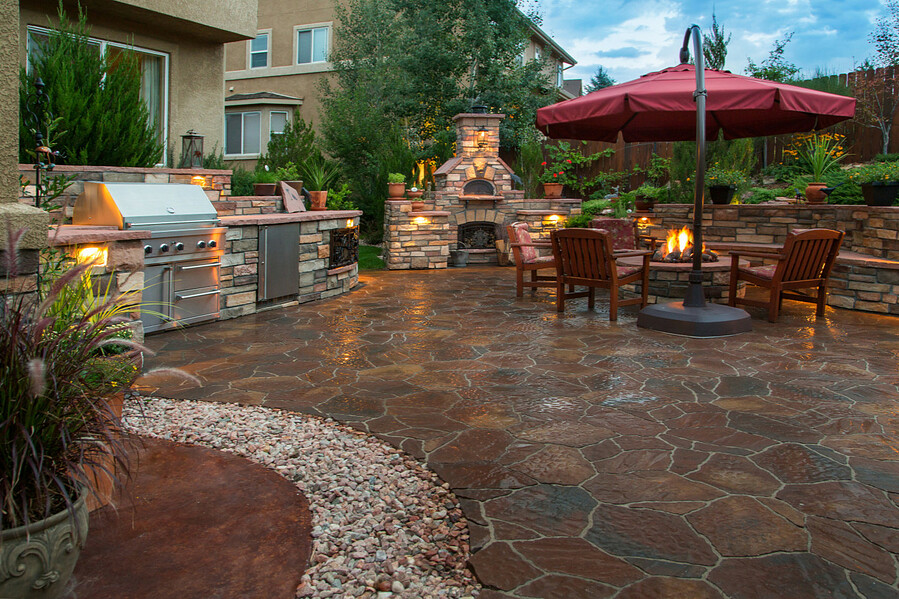 No matter the size of your home, one of the biggest trends in home ownership is to increase living space by expanding to the outdoors. One of the easiest ways to increase outdoor living space is by installing lighting, so you and your loved ones can enjoy your yard no matter the time of day.
But before rushing into a project, take time to think about the different living zones around the outside of your home that currently exist or ones that you will add. Then, design an outdoor lighting plan to seamlessly blend your indoor lighting scheme with that of your outdoors to create a welcoming space with the right ambiance.
Consider the following lighting ideas for popular outdoor zones to increase outdoor living space.
---
LEDs Offer Lighting Benefits for Outdoor Living Spaces
There are different lighting systems to choose from. LED outdoor lighting systems are one of the best because they last longer than any light on the market, have superior performance, and give off very low heat. And because LED lighting is energy efficient, you'll see the benefit on your electric bills.
In addition, LEDs offer attractive style and color variations. And LED lights don't attract bugs and mosquitoes, so you can enjoy the outdoors in comfort.
Lighting Decks, Patios, & Porches
Decks, patios, and porches are gathering spaces for family and friends. The right lighting brightens doorways and steps for safety and defines perimeters. Consider combining different lighting styles to add interest and drama. If you like to look at the stars, install dimmers so that you can lower the lights to enjoy the night sky.
Lighting Landscapes, Pathways, & Sitting Areas
Strategically place outdoor lighting next to pathways to guide people to sitting areas. Consider using different lighting styles in and around your landscaping to bring your gardens to life at night. Accent lighting around sitting areas brings outdoor comfort and practicality.
Lighting Outdoor Kitchens & Bars
Outdoor kitchens and bars are central hubs for entertaining. Plan task lighting above food preparation areas. Consider installing color-changing LEDs to create a party-like atmosphere or add dimmers to lower the lights for a calmer ambiance.
Lighting Pools, Spas, & Water Features
Lighting around the edge of your pool, spa, and ponds not only serves to give these water features a luxurious feel, they also illuminate edges for safety. Add lighting under the water and create stunning effects. Consider colored lighting for added beauty and drama.
Lighting Outdoor Dining Areas
From formal chandeliers to sparkling string lights, the options for lighting outdoor eating areas are endless. Consider your unique style and the mood you wish to create.
Call in the Lighting Professionals
If you're thinking about installing outdoor lighting, consider the benefits of relying on the outdoor lighting services of a professional. Professionals have the knowledge and expertise to know the best types of lights to use, how many to install, and where to position them, so you get the greatest benefits.
---
Dusk to Dawn Outdoor LED Lighting Professionals are Here for You
The professionals at Dusk to Dawn Outdoor Lighting are here to help you achieve your outdoor lighting goals. We have the knowledge and expertise to handle any size project and are ready to talk to you.
Register with the form on this page to receive emails. Stay up to date with the latest design trends and outdoor lighting advice from the experts. Don't worry, we won't flood your inbox or sell your information.
Download our Lookbook. See how professionally designed outdoor lighting can make a difference to your home and property.
Contact us for a Free Consultation. There's no time like right now to add beauty, safety, style, and value to your home. We're ready to talk to you, and it won't cost you a dime!
About Dusk to Dawn
Dusk to Dawn is a premier, family-owned St. Louis business serving the greater St. Louis region and beyond. We are one of the only outdoor lighting companies to exclusively use low-voltage LED outdoor lighting systems. With the knowledge and expertise needed for designing and installing outdoor lighting, we work closely with clients to couple their dream with our design and installation expertise. The result is a thoughtful outdoor lighting experience that is stunning and innovative as well as functional and efficient.
Never compromising quality and efficiency and always respecting our client's time and dollars, our goal is to provide you with the best commercial and residential outdoor lighting.