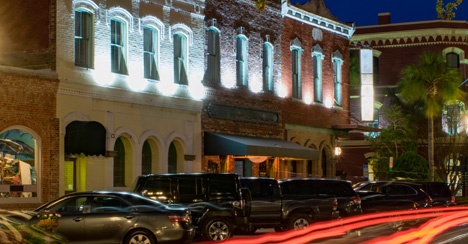 Being visible is essential to business success. Elegant, inviting outdoor lighting is one of the best ways to attract would-be customers to your door. As more people find your business and walk through your door, the potential for increasing sales rises dramatically.
---
First Impressions Matter
Catch the eyes of passersby and make a striking first impression, no matter the time of day. The very first thing people see when they approach a business is the exterior. Professionally installed outdoor lighting has a visually brilliant appeal that will make your business's name and location memorable to potential and returning customers.
At night, increase visibility with the dazzling potential of outdoor lighting with a look that separates you from the competition, makes the right first impression, and can increase your customer base.
Give Your Business Extended Periods of Visibility & Stand Out from the Crowd
During the daytime, the outside of your building is warm and welcoming, your signage is easily read, and the architectural features of your property stand out.
But what about after darkness falls? By installing professional outdoor lighting around your business' exterior, you increase visibility into and on your property so that you can take advantage of increased business no matter the time of day.
When you add professional outdoor lighting around your business, you create a positive experience for your customers and inspires feelings of engagement and trust in your brand. You've primed them for purchasing and for return visits. In addition, you also:
Help customers find your business, especially if located off the beaten path
Promote the name of your business (even after closing for the day)
Stand out from neighboring businesses and gain a competitive edge
Enhance your property's curb appeal and increase property value
Make your customers and visitors feel safe and secure after dark
Protect your business from criminal activity, discouraging intruders from approaching and entering your business
Call in the Lighting Professionals
If you're thinking about installing outdoor lighting, consider the benefits of relying on the outdoor lighting services of a professional. Professionals have the knowledge and expertise to know the best types of lights to use, how many to install, and where to position them, so you get the greatest benefits.
---
Dusk to Dawn Outdoor LED Lighting Professionals are Here for You
The professionals at Dusk to Dawn Outdoor Lighting are here to help you achieve your outdoor lighting goals. We have the knowledge and expertise to handle any size project and are ready to talk to you.
Register with the form on this page to receive emails. Stay up to date with the latest design trends and outdoor lighting advice from the experts. Don't worry, we won't flood your inbox or sell your information.
Download our Lookbook. See how professionally designed outdoor lighting can make a difference to your home and property.
Contact us for a Free Consultation. There's no time like right now to add beauty, safety, style, and value to your home. We're ready to talk to you, and it won't cost you a dime!
About Dusk to Dawn
Dusk to Dawn is a premier, family-owned St. Louis business serving the greater St. Louis region and beyond. We are one of the only outdoor lighting companies to exclusively use low-voltage LED outdoor lighting systems. With the knowledge and expertise needed for designing and installing outdoor lighting, we work closely with clients to couple their dream with our design and installation expertise. The result is a thoughtful outdoor lighting experience that is stunning and innovative as well as functional and efficient.
Never compromising quality and efficiency and always respecting our client's time and dollars, our goal is to provide you with the best commercial and residential outdoor lighting.