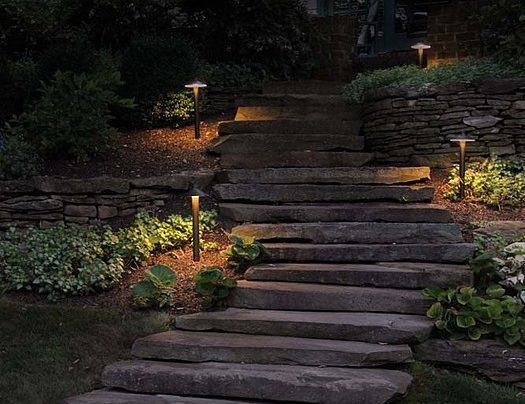 We all want our homes to be warm and welcoming to our loved ones and neighbors. When you install pathway lights you safely guide everyone to your front door. For additional charm, consider placing LED lights in lanterns along your home's pathways.
LED Pathway Lights Add Safety to Your Property
Pathway lights can be set on stakes that are driven into the ground. The bulb is positioned under a canopy or inside a fixture. The light's soft glow shines down toward your feet. Lights along pathways can also be incorporated at ground level directly at the edge of the pathway.
No matter the type of light or where they are positioned, pathway lights at the front of your house guide visitors to your front door, while in your backyard they might guide guests to sitting areas or a water feature.
Besides illuminating the way, LED pathway lights keep your visitors and family safebecause they shine light on obstacles along the pathway that might cause people to stumble and fall. They also keep people on the walkway when it's dark outside.
Pathway Lanterns: A Charming Fixture for LED Lighting
Safety isn't the only function of outdoor lighting. A thoughtful outdoor lighting design also takes aesthetics into account, so that your lighting plan provides beautiful illumination as well as safety – it's a dual function.
There are many options for creating an aesthetic look, depending on your unique vision and goals. When placed alongside pathways, lanterns holding LED lights give yards a whimsical and charming look that's sure to turn heads and garner comments. The soft glow of LED lights inside pathway lanterns provide the perfect atmosphere for backyard entertaining.
Inside the lantern, consider installing LED bulbs that resemble classic gaslights or bare Edison bulbs and create an attractive look that reminds us of simpler times.
Do you like to decorate your home for the holidays that occur throughout the year? Lanterns can be decked out with seasonal decorations to add an air of festivity and unique charm to your property that's sure to make people stop and take a second look.
Call a Professional Outdoor Lighting Company
If you're thinking about pathway or other outdoor lighting installation, consider the benefits of relying on the expertise of outdoor lighting professionals. They have the knowledge and experience to know the best types of lights to use, how many to install, and where to position them, so you get the greatest benefits.
---
Dusk to Dawn Outdoor LED Lighting Professionals are Here for You
The professionals at Dusk to Dawn Outdoor Lighting are here to help you achieve your outdoor lighting goals. We have the knowledge and expertise to handle any size project and are ready to talk to you.
Register with the form on this page to receive emails. Stay up to date with the latest design trends and outdoor lighting advice from the experts. Don't worry, we won't flood your inbox or sell your information.
Download our Lookbook. See how professionally designed outdoor lighting can make a difference to your home and property.
Contact us for a Free Consultation. There's no time like right now to add beauty, safety, style, and value to your home. We're ready to talk to you, and it won't cost you a dime!
About Dusk to Dawn
Dusk to Dawn is a premier, family-owned St. Louis business serving the greater St. Louis region and beyond. We are one of the only outdoor lighting companies to exclusively use low-voltage LED outdoor lighting systems. With the knowledge and expertise needed for designing and installing outdoor lighting, we work closely with clients to couple their dream with our design and installation expertise. The result is a thoughtful outdoor lighting experience that is stunning and innovative as well as functional and efficient.
Never compromising quality and efficiency and always respecting our client's time and dollars, our goal is to provide you with the best commercial and residential outdoor lighting.