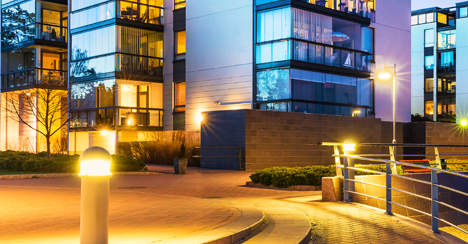 For property managers, long-term success requires low turnover, high tenant retention, and a great reputation. Good lighting is essential for giving your apartment curb appeal and safety. Adding low-voltage LED outdoor lighting systems to an apartment complex's exterior creates an ambiance that shows off the property's exterior and offers that extra "something" to inspire renters to move in and existing tenants to renew their leases.
 First Impressions Matter – Attracting New Tenants
Making an excellent first impression is vital to attracting potential tenants. Showcase the artistic beauty of your property's landscaping and architecture with the perfect illumination of strategically placed lighting. Lead would-be tenants to the door of your leasing office with the increased visibility offered by outdoor lighting.
Expand Your Space, Highlight Special Features, & Stand Out from the Competition
Bring into view the full potential of your property's available space. Light up the grounds and landscaping, hallways, sidewalks, entrances, and common areas to give them a bigger, more open appearance.
What sets you apart from your competitors? Shine a light on these things. Highlight the special features of your property that your renter wants to see and draw attention to yard space, patios and porches, garden areas, pools, outdoor recreation areas, or other unique features your location offers.
Not only does a well-lit space rent faster than poorly lit ones, professionally installed outdoor lighting helps your space stand out from other properties potential tenants may be considering.
Time for a Makeover – Give Your Space a Modern Update
Transform your property with professionally installed outdoor lighting and give your property a modern update. Existing tenants will appreciate the upgrade, and the new look and feel will encourage them to extend their stay, while potential tenants will be attracted to the clean and current aesthetic, motivating them to move in.
Security & Safety
Property managers and owners should address higher-risk areas with lighting. Professionally installed LED lighting helps make your property more secure and safe. Avoid any liability issues that could arise from poorly lit areas that might draw crime or cause trip and fall hazards to renters. Make sure occupants and visitors can see the obstacles around them.
Studies show people avoid darkness because they perceive it as threatening, and well-lit apartment complexes actively deter would-be criminals from approaching and entering. This added security encourages potential tenants to feel welcomed, safe, and secure – what everyone needs out of a space they plan to make their new home.
Call the Pros for C
ommercial Outdoor Security Lighting
If you're in the market for commercial outdoor security lighting for your apartment complex,  there are benefits to hiring a professional outdoor lighting company. Professionals have the knowledge and expertise to design with the best types and number of lights for your unique situation. They know  where to position them and how to maintain them, so you get the greatest benefits.
---
Dusk to Dawn Outdoor Lighting Company Is Here for You
The professionals at Dusk to Dawn Outdoor Lighting are here to help you achieve your outdoor lighting goals. We have the knowledge and expertise to handle any size project and are ready to talk to you.
Register with the form on this page to receive emails. Stay up to date with the latest design trends and outdoor lighting advice from the experts. Don't worry, we won't flood your inbox or sell your information.
Download our Lookbook. See how professionally designed outdoor lighting can make a difference to your home and property.
Contact us for a Free Consultation. There's no time like right now to add beauty, safety, style, and value to your home. We're ready to talk to you, and it won't cost you a dime!
About Dusk to Dawn
Dusk to Dawn is a premier, family-owned St. Louis business serving the greater St. Louis region and beyond. We are one of the only outdoor lighting companies to exclusively use low-voltage LED outdoor lighting systems. With the knowledge and expertise needed for designing and installing outdoor lighting, we work closely with clients to couple their dream with our design and installation expertise. The result is a thoughtful outdoor lighting experience that is stunning and innovative as well as functional and efficient.
Never compromising quality and efficiency and always respecting our client's time and dollars, our goal is to provide you with the best commercial and residential outdoor lighting.