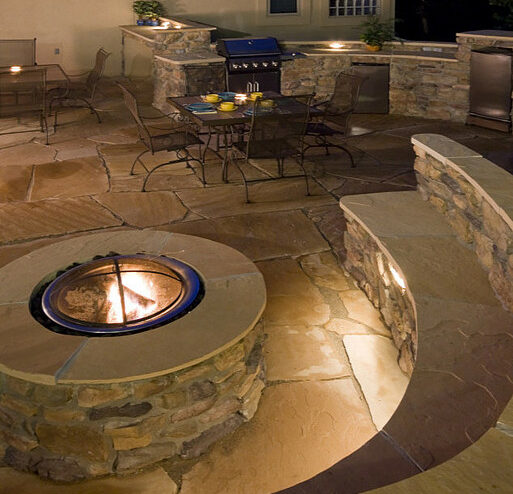 Outdoor LED task lighting is essential in your lighting plan, especially if you have an outdoor kitchen, bar, or grilling area. Task lighting provides a gentle but concentrated light source, so you can easily see while you work. That means that many of the tasks you might have done inside can – with the right lighting – now be performed outside.
Outdoor Task Lighting for Cooking Alfresco
During summer BBQs and parties, you will most likely be cooking outside in your kitchen or on your grill. Outdoor LED task lighting is necessary above cooking surfaces, so you can make sure that your favorite cut of meat is cooked. Task lighting eliminates the guesswork, so you won't have to take the meat off the grill and run it inside to make sure it's cooked through.
Outdoor task lighting is also commonly used above food preparation areas. The focused light ensures that you have enough illumination to use sinks, counter space, and cutting boards (and much more!) without straining your eyes in the dark.
Outdoor LED Task Lighting Gives a Warm Glow
LED lighting produces a warm glow that sets an ambiance. Overhead or lights under cabinets are used to enhance work specific areas, improving visibility in areas that overhead lights cannot reach.
Professionally installed LED outdoor task lighting can be positioned aesthetically and unobtrusively, so your outdoor space is beautiful but still functional.
Other Uses for Outdoor Task Lighting
While task lighting is most commonly used in outdoor kitchen areas, consider some other locations that benefit from a focused light source.
Eating areas
Eating or dining areas of course benefit from good lighting. Your guests and family will thank you when they can see the beautiful meal you prepared, lit by gently focused light.
Recreational areas
Recreational activities deserve task lighting too! Imagine a soft pool of light over your favorite outside reading nook. Or light up the porch table to invite a leisurely after-dinner game of cards.
Swimming pools need lighting not just in and around the pool itself, but also on poolside-decks, changing areas, and storage spots for pool toys and equipment.
Gardening
Do you enjoy gardening in the cool of the evening? Task lighting can be used to illuminate your work table, hose or water pump, or a specific planting area. If you employ a landscaping service, they will appreciate the ability to see their work areas and safely navigate obstacles.
Creating more functional work areas
Outdoor buildings, garages, tool sheds, and workbenches are another obvious choice for task lighting. If you are lucky enough to have someone in your family who enjoys woodworking, puttering in the garage, working on cars, or fixing things around the house after dark, task lighting above working surfaces in these areas is a must!
Call an Outdoor Lighting Company for Task Lighting
If you are ready to enhance outdoor living areas at night, there are benefits to hiring an outdoor lighting company. Trained professionals have the experience and expertise to know the best types of lights to use, how many to install, and how they should be positioned, so you get the greatest benefits.
---
Dusk to Dawn Outdoor LED Lighting Professionals are Here for You
The professionals at Dusk to Dawn Outdoor Lighting are here to help you achieve your outdoor lighting goals. We have the knowledge and expertise to handle any size project and are ready to talk to you.
Register with the form on this page to receive emails. Stay up to date with the latest design trends and outdoor lighting advice from the experts. Don't worry, we won't flood your inbox or sell your information.
Download our Lookbook. See how professionally designed outdoor lighting can make a difference to your home and property.
Contact us for a Free Consultation. There's no time like right now to add beauty, safety, style, and value to your home. We're ready to talk to you, and it won't cost you a dime!
About Dusk to Dawn
Dusk to Dawn is a premier, family-owned St. Louis business serving the greater St. Louis region and beyond. We are one of the only outdoor lighting companies to exclusively use low-voltage LED outdoor lighting systems. With the knowledge and expertise needed for designing and installing outdoor lighting, we work closely with clients to couple their dream with our design and installation expertise. The result is a thoughtful outdoor lighting experience that is stunning and innovative as well as functional and efficient.
Never compromising quality and efficiency and always respecting our client's time and dollars, our goal is to provide you with the best commercial and residential outdoor lighting.