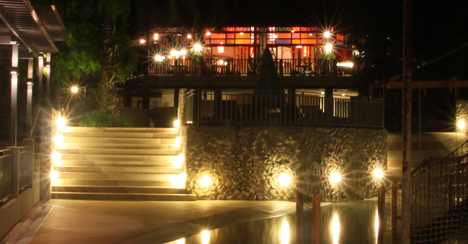 Outdoor lighting can make a huge impact on your business and property. Is your outdoor lighting giving would-be customers and visitors the right first impression of your company? We agree that it's important that your business is well-lit so that customers are safe when they visit. But your security lights don't have to be so bright that customers and visitors are turned away.
LED Outdoor Lighting: A New Trend in Security Lighting for Businesses
Say goodbye to the unsightly, unattractive security lights of the past. Today, low-voltage LED outdoor lighting systems are one of the best options for commercial security lighting. But low voltage doesn't mean low light or low quality. These lights shine brighter, give off very low heat, and last longer than any light on the market.
While all LEDs emit a soft, non-glaring glow, security and motion sensing LED beams flood areas with plenty of light to discourage criminal activity. LED outdoor lighting also makes it easier for security guards to spot suspicious vehicles or figures lurking around your property or parking lot.
Pair your LED outdoor lights with brass fixtures that absorb heat and extend the life of the bulbs. This LED/brass combination means your lights will perform in extreme heat and excessive cold without glass breaking or lamps burning out. Because LED lighting is energy efficient, you'll see the cost savings on your electric bills.
LED Outdoor Lighting Performs a Dual Function
LED security lighting for businesses performs a dual function. It creates memorable illumination that is aesthetic and makes a positive impression while offering safety and security all in one.
Consider the popular uses for LED outdoor security lighting:
Landscaping, walkways, and stairs
Signs, flag poles, entryways, and addresses
Parking lots
Large expanses of open space
And much more!
When you have a well-lit business that gives a positive first impression, you encourage people to walk through your door and the potential for increasing sales rises dramatically.
Call in the Lighting Professionals
If you're thinking about installing outdoor lighting, consider the benefits of relying on the outdoor lighting services of a professional. Professionals have the knowledge and expertise to know the best types of lights to use, how many to install, and where to position them, so you get the greatest benefits.
---
Dusk to Dawn Outdoor LED Lighting Professionals are Here for You
The professionals at Dusk to Dawn Outdoor Lighting are here to help you achieve your outdoor lighting goals. We have the knowledge and expertise to handle any size project and are ready to talk to you.
Register with the form on this page to receive emails. Stay up to date with the latest design trends and outdoor lighting advice from the experts. Don't worry, we won't flood your inbox or sell your information.
Download our Lookbook. See how professionally designed outdoor lighting can make a difference to your home and property.
Contact us for a Free Consultation. There's no time like right now to add beauty, safety, style, and value to your home. We're ready to talk to you, and it won't cost you a dime!
About Dusk to Dawn
Dusk to Dawn is a premier, family-owned St. Louis business serving the greater St. Louis region and beyond. We are one of the only outdoor lighting companies to exclusively use low-voltage LED outdoor lighting systems. With the knowledge and expertise needed for designing and installing outdoor lighting, we work closely with clients to couple their dream with our design and installation expertise. The result is a thoughtful outdoor lighting experience that is stunning and innovative as well as functional and efficient.
Never compromising quality and efficiency and always respecting our client's time and dollars, our goal is to provide you with the best commercial and residential outdoor lighting.