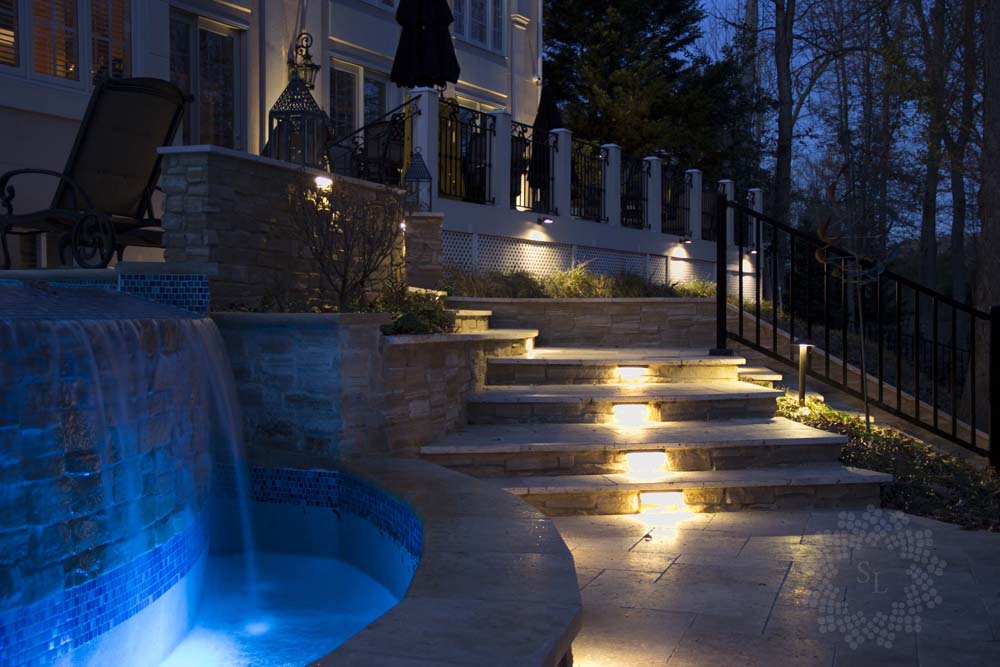 Are you thinking about upgrading or installing new outdoor lighting? If so, consider these outdoor lighting trends. No matter your design style, there are options to give your outdoors a completely modern look that will command attention and second looks.
---
LED Outdoor Lighting Systems
LED outdoor lighting systems are considered one of the best on the market because they last longer and give off very low heat. They are also energy efficient and cost less money, so you'll see the benefit on your electric bills.
In addition, LEDs can be installed virtually everywhere and offer attractive style and color variations. And LED lights don't attract bugs and mosquitoes, so they help you enjoy the outdoors in comfort.
Brass Fixtures
Warm metals – such as brass – are a popular outdoor lighting trend. Besides giving your outdoors a classic look, an LED/brass combination helps extend the life of your LEDs because the metal absorbs the bulb's heat. This means your lights will perform in extreme hot and cold temperatures without glass breaking or lamps burning out.
Chandeliers & Twinkling String Lights
In outdoor eating areas, there's no shortage of lighting options. Choose from formal chandeliers to casual twinkling string lights that add interest and drama. String lights can also be hung over sitting areas or in trees and shrubs to create feelings of whimsey.
Lanterns
Lanterns add charm to your landscaping and pathways. They are a popular outdoor lighting trend because they also match a variety of architectural styles and personal tastes. Inside the lantern, consider installing LED bulbs that resemble classic gaslights or the Edison bulb and create feelings of nostalgia. You can also deck out lanterns with seasonal decorations to add an air of festivity to your property.
Wall Lights
Beautiful lighting installed on exterior walls provide architectural and landscaping accents as well as nighttime visibility. If these lights are positioned near landscaping, angle the light's glow downward to showcase your plants and illuminate nearby walkways.
Inground Lighting
Inground lights are installed inside your hardscape along the edges – like along the border of a walkway. These lights help guide people along a path or highlight certain features of your landscaping.
Smart Technology & Outdoor Lighting
There is a growing outdoor lighting trend to connect your lighting to a wireless system, so you can remotely switch lights on or off, giving you the ultimate control when you aren't home. The technology controls are accessed through an app on your mobile device. And smart technology is becoming easier to use, especially as voice control becomes more widespread.
Call in the Lighting Professionals
If you're thinking about installing outdoor lighting, consider the benefits of relying on the outdoor lighting services of a professional. Professionals have the knowledge and expertise to know the best types of lights to use, how many to install, and where to position them, so you get the greatest benefits.
---
 Dusk to Dawn Outdoor LED Lighting Professionals are Here for You
The professionals at Dusk to Dawn Outdoor Lighting are here to help you achieve your outdoor lighting goals. We have the knowledge and expertise to handle any size project and are ready to talk to you.
Register with the form on this page to receive emails. Stay up to date with the latest design trends and outdoor lighting advice from the experts. Don't worry, we won't flood your inbox or sell your information.
Download our Lookbook. See how professionally designed outdoor lighting can make a difference to your home and property.
Contact us for a Free Consultation. There's no time like right now to add beauty, safety, style, and value to your home. We're ready to talk to you, and it won't cost you a dime!
About Dusk to Dawn
Dusk to Dawn is a premier, family-owned St. Louis business serving the greater St. Louis region and beyond. We are one of the only outdoor lighting companies to exclusively use low-voltage LED outdoor lighting systems. With the knowledge and expertise needed for designing and installing outdoor lighting, we work closely with clients to couple their dream with our design and installation expertise. The result is a thoughtful outdoor lighting experience that is stunning and innovative as well as functional and efficient.
Never compromising quality and efficiency and always respecting our client's time and dollars, our goal is to provide you with the best commercial and residential outdoor lighting.