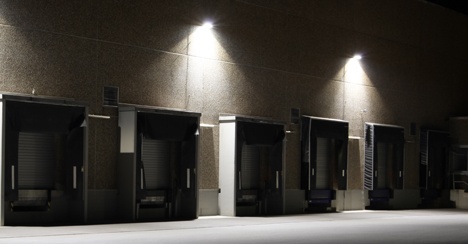 As a business owner, your eye is always on the bottom line. Is your electricity bill higher than you would like? If you aren't using LED lights in your parking lot, one way you might be able to save costs is to convert your parking lot lights to an LED lighting system.
When you make the change to LED, you get an added bonus of not only seeing lower electricity costs, you also help patrons and guests feel safe as they walk to and from their vehicle.
---
How to Convert Parking Lot Lights to LEDs
Depending on the type of lights you currently have and the condition of the parts, some people choose to retrofit the LED bulb in the fixture that's already in place. While this option might seem quicker and easier than installing an entirely new system, old parts aren't always equipped to dissipate the heat generated by the LED light. Unfortunately, the heat buildup can shorten the life of the LED system or cause it to fail. In the long run you might spend more money than what you would have spent installing a new system.
Switching the old fixtures to attractive new LED fixtures that are designed to handle the LED bulbs is a good option that many people choose. With this choice you update your entire system. If you go this route, ask about rebates from the power companies and warranties. Many times you can take advantage of both.
Benefits of LED Outdoor Lighting for Parking Lots
LED outdoor lighting systems are one of the best options for commercial safety lighting. These lights shine brighter, give off very low heat, and last longer than any light on the market.
Consider the following benefits that LED parking lights offer:
Energy efficiency with high lumen per watt output equates to more light with less energy
Nice, bright white light
Cost savings
Help deter would-be criminals
Illumination of obstacles and hazards
Increased feelings of safety
Improved property value
5 to 10 year to lifetime warranties
Call in the Lighting Professionals
If you're thinking about installing outdoor lighting, consider the benefits of relying on the outdoor lighting services of a professional. Professionals have the knowledge and expertise to know the best types of lights to use, how many to install, and where to position them, so you get the greatest benefits.
---
Dusk to Dawn Outdoor LED Lighting Professionals are Here for You
The professionals at Dusk to Dawn Outdoor Lighting are here to help you achieve your outdoor lighting goals. We have the knowledge and expertise to handle any size project and are ready to talk to you.
Register with the form on this page to receive emails. Stay up to date with the latest design trends and outdoor lighting advice from the experts. Don't worry, we won't flood your inbox or sell your information.
Download our Lookbook. See how professionally designed outdoor lighting can make a difference to your home and property.
Contact us for a Free Consultation. There's no time like right now to add beauty, safety, style, and value to your home. We're ready to talk to you, and it won't cost you a dime!
About Dusk to Dawn
Dusk to Dawn is a premier, family-owned St. Louis business serving the greater St. Louis region and beyond. We are one of the only outdoor lighting companies to exclusively use low-voltage LED outdoor lighting systems. With the knowledge and expertise needed for designing and installing outdoor lighting, we work closely with clients to couple their dream with our design and installation expertise. The result is a thoughtful outdoor lighting experience that is stunning and innovative as well as functional and efficient.
Never compromising quality and efficiency and always respecting our client's time and dollars, our goal is to provide you with the best commercial and residential outdoor lighting.