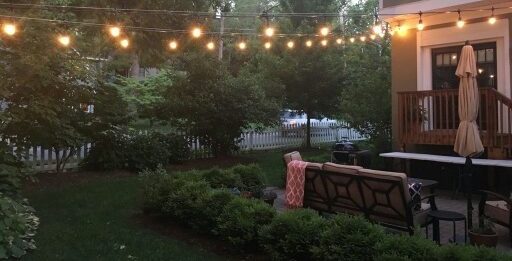 Bugs and outdoor lights seem to go hand in hand. But that isn't always the case! Summer is here, and patio season along with it. If you're trying to keep bugs away from your home on summer evenings, selecting the right kind of light bulb matters.
LED lights are great for the environment. It's one of their best-selling points. A less known benefit, however, is that LED lights are less attractive to bugs than alternative light sources. There are two reasons for this that studies have supported.
---
UV Light
The first has to do with the UV color spectrum and how insects interpret different wavelengths. Shorter wavelengths like that of UV light (which mimics the light from the sun and the moon) is more visible and much more attractive to bugs. Traditional incandescent lights, halogen lights, and HID lights all emit UV radiation – making them bug magnets. LEDs, on the other hand, produce very little to no UV light.
Heat
Additionally, LED lights produce very little heat. Some bugs have thermoreceptors (a temperature or "heat-flow" sensor) that allows bugs to pick up heat sources and attracts them to it. This is another reason why LEDs are less appealing to bugs than alternative bulb options that waste most of the energy they consume in the form of heat.
Benefits
LED lights serve as a good way to dramatically reduce bug presence. This benefit extends to even the peskiest of insects, from mosquitoes and moths to stink bugs and earwigs.
This means LEDs can play a part in reducing insect-borne diseases. Installing LED outdoor lighting also means less maintenance by way of removing dead bug bodies from your exterior light fixtures. Lastly, as a bonus benefit – if you aren't a fan of bats, LEDs can dissuade them from coming around as well!
Call in the Lighting Professionals
If you're thinking about installing outdoor lighting, consider the benefits of relying on the outdoor lighting services of a professional. Professionals have the knowledge and expertise to know the best types of lights to use, how many to install, and where to position them, so you get the greatest benefits.
---
Dusk to Dawn Outdoor LED Lighting Professionals are Here for You
The professionals at Dusk to Dawn Outdoor Lighting are here to help you achieve your outdoor lighting goals. We have the knowledge and expertise to handle any size project and are ready to talk to you.
Register with the form on this page to receive emails. Stay up to date with the latest design trends and outdoor lighting advice from the experts. Don't worry, we won't flood your inbox or sell your information.
Download our Lookbook. See how professionally designed outdoor lighting can make a difference to your home and property.
Contact us for a Free Consultation. There's no time like right now to add beauty, safety, style, and value to your home. We're ready to talk to you, and it won't cost you a dime!
About Dusk to Dawn
Dusk to Dawn is a premier, family-owned St. Louis business serving the greater St. Louis region and beyond. We are one of the only outdoor lighting companies to exclusively use low-voltage LED outdoor lighting systems. With the knowledge and expertise needed for designing and installing outdoor lighting, we work closely with clients to couple their dream with our design and installation expertise. The result is a thoughtful outdoor lighting experience that is stunning and innovative as well as functional and efficient.
Never compromising quality and efficiency and always respecting our client's time and dollars, our goal is to provide you with the best commercial and residential outdoor lighting.