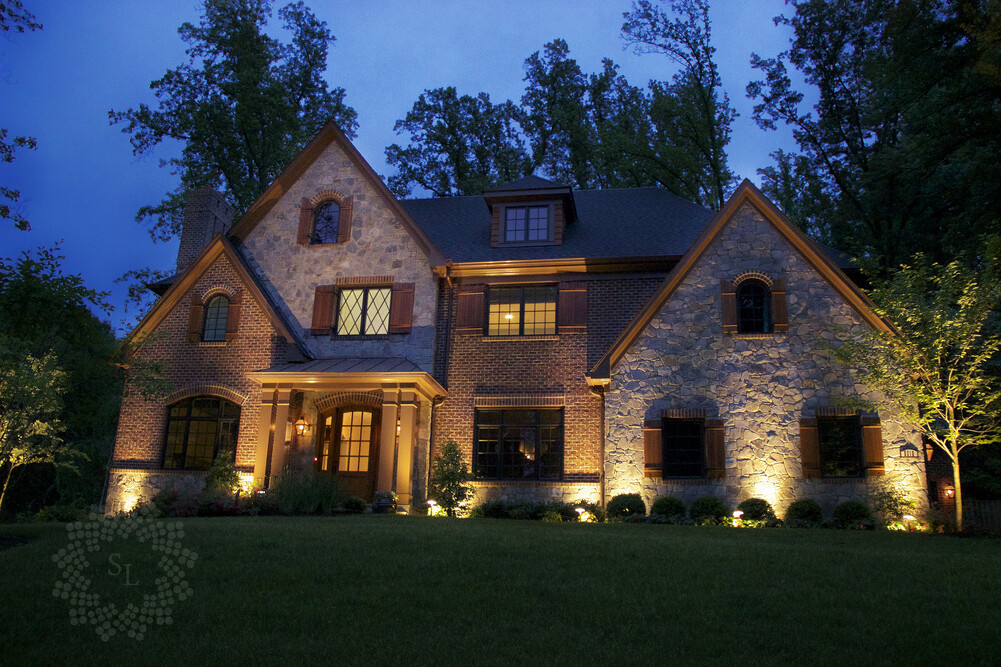 Are you thinking about upgrading or installing outdoor lighting? Now is the perfect time to choose low voltage LED outdoor lighting. No matter your preferred style, there are options that will give your outdoors a completely different look during the nighttime.
And LEDs can be installed virtually everywhere and offer attractive style and color variations. There are a number of other proven benefits of LED outdoor lighting.
---
Energy Efficiency, Superior Performance, & Longevity
Low voltage LED outdoor lighting provide greater energy efficiency, superior performance, and longevity. LEDs shine brightly but use only 20% of the energy of incandescent bulbs. Low voltage lighting also requires about 2/3 less power than a high voltage system. Additionally, LEDs last 50 times longer than incandescent and halogen bulbs. This means savings on your electricity bill and fewer bulbs to replace.
Low voltage lights are also relatively smaller compared to incandescent bulbs and other types of lighting. This means that you can install low voltage lighting in spaces where incandescent bulbs might not fit. Other than its size, low voltage lights are also excellent in giving your living space soft illumination that is pleasing to the eyes.
With the ever-increasing demand for energy conservation, using low voltage lights is a great way to help conserve our rapid depleting energy resources.
Security & Safety
When darkness falls, how secure and safe is your home? LEDs do a great job illuminating dark corners, so intruders can't sneak around your home. Would-be burglars are easily discouraged from entering a well-lit house compared to a house that is dark.
Low voltage LED outdoor lighting systems also illuminate obstacles – invisible in the darkness – so that you, your family, and guests won't injure themselves while walking around your property after dark.
Adding Aesthetics
Adding LEDs around your home's exterior creates an ambiance that shows off your home's splendor. They showcase your landscaping, your patios and porches, your pool (or outdoor recreation area), and your home's architectural features. Adding outdoor lighting completely changes the look of your home at night.
An added bonus: LED lights don't attract bugs and mosquitoes, so they help you enjoy the outdoors in comfort.
Call in the Lighting Professionals
If you're thinking about installing outdoor lighting, consider the benefits of relying on the outdoor lighting services of a professional. Professionals have the knowledge and expertise to know the best types of lights to use, how many to install, and where to position them, so you get the greatest benefits.
---
Dusk to Dawn Outdoor LED Lighting Professionals are Here for You
The professionals at Dusk to Dawn Outdoor Lighting are here to help you achieve your outdoor lighting goals. We have the knowledge and expertise to handle any size project and are ready to talk to you.
Register with the form on this page to receive emails. Stay up to date with the latest design trends and outdoor lighting advice from the experts. Don't worry, we won't flood your inbox or sell your information.
Download our Lookbook. See how professionally designed outdoor lighting can make a difference to your home and property.
Contact us for a Free Consultation. There's no time like right now to add beauty, safety, style, and value to your home. We're ready to talk to you, and it won't cost you a dime!
About Dusk to Dawn
Dusk to Dawn is a premier, family-owned St. Louis business serving the greater St. Louis region and beyond. We are one of the only outdoor lighting companies to exclusively use low-voltage LED outdoor lighting systems. With the knowledge and expertise needed for designing and installing outdoor lighting, we work closely with clients to couple their dream with our design and installation expertise. The result is a thoughtful outdoor lighting experience that is stunning and innovative as well as functional and efficient.
Never compromising quality and efficiency and always respecting our client's time and dollars, our goal is to provide you with the best commercial and residential outdoor lighting.