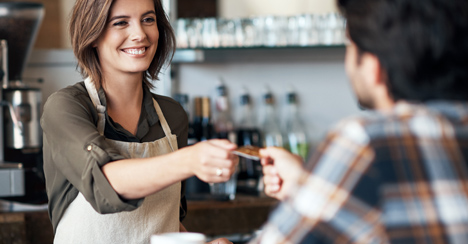 In today's competitive marketplace, professionally designed lighting helps set your business apart and gives you an important competitive advantage. Outdoor lighting can create a positive first impression in the minds of your patrons and entices them to your door.
By thoughtfully designing your outdoor lighting plan, you encourage patrons to stay longer. And the more they linger, the greater chance they are likely to spend more money.
 Lighting Creates Ambiance
Outdoor lighting helps you set the desired mood. Consider how the right outdoor lighting can impact an eating establishment. As customers relax into the outdoor atmosphere of a beautifully lit café or coffee shop, they tend to linger, order an extra round of drinks, or stay for dessert, which results in greater profits for your business.
Think about whether you need dramatic lighting to create a statement or soft and gentle lighting to create a sense of peace and calm.
No matter your industry, if you match your lighting design to your brand identity, you give your customers a memorable experience and help them engage with your business.
Lighting for Safety & Security
Professionally installed LED lighting creates a welcoming and safe environment for your customers. In fact, many shoppers are quick to leave poorly lit businesses when they feel ill at ease or unsafe. In contrast, customers who feel safe take their time to wander the store, lingering over the products they most want, and on average will spend more.
Keep in mind that professionally installed lighting should balance security and warmth, so that lighting is not too glaring or too dim. It's a perfect balance!
Lighting for Wayfinding
Proper outdoor lighting can be used to tell the shoppers where to go and how best to get there. For example, use pathway lights to guide patrons along intended walkways at night. Lighting near the ground can also prevent trips and falls by bringing visibility to steps, ramps, and other uneven surfaces.
Rely on Professional Outdoor Lighting Services
If you're considering outdoor lighting for your business, keep in mind the benefits of relying on a professional outdoor lighting company for design, installation and maintenance. Professionals have the knowledge and expertise to know the best types of lights to use, how many to install, and where to position them, so you get the greatest benefits.
---
Dusk to Dawn Outdoor Lighting Company Is Here for You
The professionals at Dusk to Dawn Outdoor Lighting are here to help you achieve your outdoor lighting goals. We have the knowledge and expertise to handle any size project and are ready to talk to you.
Register with the form on this page to receive emails. Stay up to date with the latest design trends and outdoor lighting advice from the experts. Don't worry, we won't flood your inbox or sell your information.
Download our Lookbook. See how professionally designed outdoor lighting can make a difference to your home and property.
Contact us for a Free Consultation. There's no time like right now to add beauty, safety, style, and value to your home. We're ready to talk to you, and it won't cost you a dime!
About Dusk to Dawn
Dusk to Dawn is a premier, family-owned St. Louis business serving the greater St. Louis region and beyond. We are one of the only outdoor lighting companies to exclusively use low-voltage LED outdoor lighting systems. With the knowledge and expertise needed for designing and installing outdoor lighting, we work closely with clients to couple their dream with our design and installation expertise. The result is a thoughtful outdoor lighting experience that is stunning and innovative as well as functional and efficient.
Never compromising quality and efficiency and always respecting our client's time and dollars, our goal is to provide you with the best commercial and residential outdoor lighting.