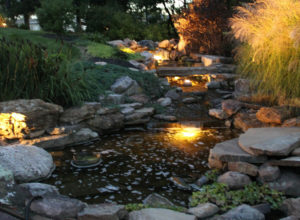 There's nothing better than relaxing in the outdoors under the stars after a long day. A nicely landscaped yard turns into a nighttime garden oasis with outdoor lighting. The right lighting creates an ambiance that shows off the natural beauty of your lawn and garden. It illuminates your prized roses, unique landscaping and hardscaping features, and flowering trees that might overhang a pond.
But that's not all. A well-lit garden oasis engages your senses and lets you enjoy its beauty in safety.
---
Bring the Senses to Life
Garden and landscape lighting adds another element to the multi-sensory experience of your garden. By lighting seating areas and garden benches, you invite visitors to pause and breathe in the scents and sounds of your garden at night.
Trickling water features, fountains, and waterfalls add to the soft sounds of the evening, while the lighting brings ripples, bubbles, and splashes to life. Ponds with soft edge lighting let you peer in at the water lilies and see the koi hiding beneath, even past sunset.
Garden Lighting for Safety
Strategically placed lighting will ensure the lighting design gently illuminates garden paths, walkways, and obstacles to prevent trips and falls. Whether it is steps, uneven terrain, or the edge of a pond, make sure you can enjoy your garden at night with a sense of peace, security, and serenity.
Lighting for Garden Parties & Outdoor Events
Share your garden oasis with others by throwing an evening garden party and enjoy the fireflies – nature's twinkle lights! Be inspired to host a small wedding in your garden that make the best use of LEDs on garden entrances, patio seating, and other areas guests will be. Or you might simply want to illuminate a garden path to invite a romantic walk at night.
Call in the Lighting Professionals
If you're thinking about installing outdoor lighting, consider the benefits of relying on the outdoor lighting services of a professional. Professionals have the knowledge and expertise to know the best types of lights to use, how many to install, and where to position them, so you get the greatest benefits.
---
Dusk to Dawn Outdoor LED Lighting Professionals are Here for You
The professionals at Dusk to Dawn Outdoor Lighting are here to help you achieve your outdoor lighting goals. We have the knowledge and expertise to handle any size project and are ready to talk to you.
Register with the form on this page to receive emails. Stay up to date with the latest design trends and outdoor lighting advice from the experts. Don't worry, we won't flood your inbox or sell your information.
Download our Lookbook. See how professionally designed outdoor lighting can make a difference to your home and property.
Contact us for a Free Consultation. There's no time like right now to add beauty, safety, style, and value to your home. We're ready to talk to you, and it won't cost you a dime!
About Dusk to Dawn
Dusk to Dawn is a premier, family-owned St. Louis business serving the greater St. Louis region and beyond. We are one of the only outdoor lighting companies to exclusively use low-voltage LED outdoor lighting systems. With the knowledge and expertise needed for designing and installing outdoor lighting, we work closely with clients to couple their dream with our design and installation expertise. The result is a thoughtful outdoor lighting experience that is stunning and innovative as well as functional and efficient.
Never compromising quality and efficiency and always respecting our client's time and dollars, our goal is to provide you with the best commercial and residential outdoor lighting.