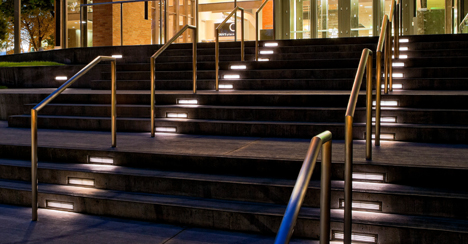 Installing professional outdoor lighting gives current clients, visitors, and guests a positive first impression of your business and property. It also helps patrons enjoy the outdoor space after the sun sets. From retaining walls to stairways and everything in between, underlighting hardscapes helps direct patrons along the right path and improves your property's safety.
For a seamlessly blended outdoor lighting scheme, plan the design with both your hardscape and softscape (or landscape) in mind.
What is Underlighting?
Underlighting is a type of outdoor lighting style where the bulb is positioned under a canopy. The light shines from under the canopy and is pointed toward the ground. This lighting is most commonly seen positioned on a post that's set in the ground next to a pathway. But the canopy and light can also be fixed directly to a structure, such as under a stair's tread to define the steps of the staircase.
How Underlighting Hardscapes Guides Patrons
Underlighting hardscapes helps ensure that your customers and visitors are safe while they are on your property. Another main reasons for this type of lighting is to help visitors see where they are going. By underlighting hardscapes, such as stairways and meandering walkways, you make sure that people can move around your property without risk of injury.
Another reason for adding underlighting to your hardscapes is to illuminate and help guide patrons along intended pathways. In addition, when underlighting is added to a stair's tread, you show patrons where to place their foot so they won't trip and fall as they go up or down the steps.
LEDs Offer Lighting Benefits for Outdoor Living Spaces
LED outdoor lighting systems are considered one of the best commercial lighting options on the market. They are energy efficient, offer superior performance with brighter illumination, and have longevity. Since LEDs give off very low heat, these lights are energy efficient and cost less money, so you'll see the benefit on your electric bills.
Pair your LEDs with a brass fixture. An LED/brass combination helps extend the life of your LEDs because the metal absorbs the bulb's heat. This means your lights will perform in extreme hot and cold temperatures without glass breaking or lamps burning out.
LEDs can be installed virtually everywhere and offer attractive style and color variations. And LED lights don't attract bugs and mosquitoes, so they help your customers enjoy the outdoors.
Call the Pros for Underlighting Your Hardscapes
If you're ready to add underlighting to your hardscapes,  consider the benefits of professional outdoor lighting companies. Professionals have the knowledge and expertise to place the best types, number and positioning of lights for your unique hardscapes. They also can help you maintain the lighting, so you get the greatest benefits.
---
Dusk to Dawn Outdoor Lighting Company Is Here for You
The professionals at Dusk to Dawn Outdoor Lighting are here to help you achieve your outdoor lighting goals. We have the knowledge and expertise to handle any size project and are ready to talk to you.
Register with the form on this page to receive emails. Stay up to date with the latest design trends and outdoor lighting advice from the experts. Don't worry, we won't flood your inbox or sell your information.
Download our Lookbook. See how professionally designed outdoor lighting can make a difference to your home and property.
Contact us for a Free Consultation. There's no time like right now to add beauty, safety, style, and value to your home. We're ready to talk to you, and it won't cost you a dime!
About Dusk to Dawn
Dusk to Dawn is a premier, family-owned St. Louis business serving the greater St. Louis region and beyond. We are one of the only outdoor lighting companies to exclusively use low-voltage LED outdoor lighting systems. With the knowledge and expertise needed for designing and installing outdoor lighting, we work closely with clients to couple their dream with our design and installation expertise. The result is a thoughtful outdoor lighting experience that is stunning and innovative as well as functional and efficient.
Never compromising quality and efficiency and always respecting our client's time and dollars, our goal is to provide you with the best commercial and residential outdoor lighting.