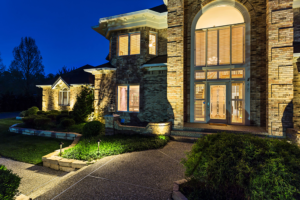 Creating a landscape lighting plan can be very fun and exciting. After all, the lighting design you choose will highlight all your favorite yard features as well as make your property and home more accessible in the evening hours – which is even more important during summer when the nights are the perfect time for relaxing on the front porch or by the fire pit. When you go to create your landscape lighting design, there are a few things to consider.
What's Your Purpose?
Defining the purpose behind your landscape lighting is a great first step to take when you're trying to draw one up. Are you looking for security and functionality? How about landscape or garden feature highlighting? Does your back deck need any illumination? You can have multiple purposes, just be aware of what your final goal is. This will help guide the process.
Set a Budget
As is the case with many things, knowing your budget before you get started on any large project is a good idea. You'll be able to make budget conscious decisions if you've already decided how much you can spend on your landscape lighting design. Or maybe you'll realize what you originally had in mind is either too little or too big based on your finances. Either way, having a round sum in the back of your head is an excellent plan!
Read Up on Maintenance
Knowing what kinds of batteries or electric system you'll need for your landscape lighting can help you narrow down your design ideas and lighting options. Going the extra mile and understanding what kinds of maintenance different design ideas might require can also be a positive reality check. How much work are you willing to put into your lighting design? Will it need to be replaced regularly? These are important questions to consider.
Narrow Down the Features You Want to Highlight
Your yard might be simple, or you might have intricately designed gardens that surround a fountain or pergola. No matter what your backyard paradise holds, take a minute to narrow down a list of what you want to highlight. Maybe your lighting is truly only for functionality and you just want it along the footpaths or main walkways. Maybe you want to create an aesthetically stunning masterpiece that sets off your pool and spa. Decide what's important to you, then go from there.
Map Out Your Property and Home
If you take the time to truly sketch out your home and property, you may be surprised and what you're missing when you just visualize it. Maybe you weren't thinking about lighting the storage shed out back by the fence, but it might be a good idea to. If you have a physical sketch of everything you're less likely to miss a key blind spot for safety flood lighting or a garden feature you wouldn't want to forget to showcase.
Know the Kinds of Lighting
There is a wide variety of lighting "types" to be aware of. Here at Dusk to Dawn STL, we use low-voltage LED lighting. It allows for safety lighting without incorporating blinding spot lights into your landscape, and it helps to accentuate the features of your home and property. However, there are other types of lighting people use. Flood lights, for example, are often used on dark sides of houses, above outbuildings, or attached to garages. It's important to know that you have options.
Know the Types of Lights
Slightly different than the "kinds" of lighting out there, it's also important to be aware of light types. There are garden lights, bullet lights, well lights, wash lights, downlights, and flood lights – just to name a few. This article from This Old House helps to put them in perspective and showcase how each of them can be incorporated into your lighting design.
Finally, Get Started with the Installation!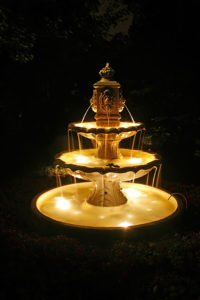 The final step is to get started with your lighting design installation. This is where one of the biggest decisions comes into play – do you DIY or work with a professional? We may be biased, but we believe that working with a professional lighting company is the surest way to guarantee a seamless, beautifully set up lighting display.
Working with a professional also takes quite a bit of the guess work out of the lighting process. Of course, when you work with Dusk to Dawn STL, we walk through your property and home with you to see the full scope of what you might want done then present you with several options. You can see our full design process on our website here. Taking the step to add a lighting design to your home is a big moment. You're not only making your home more secure for yourself and loved ones, but you're also adding a significant value to your property. Whatever your final design ends up looking like, we're sure it will be beautiful.