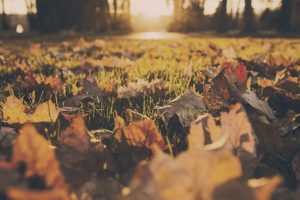 You may not be in your yard as much as summer comes to an end, but that doesn't mean outdoor lighting can't maximize your home's value and make certain areas of your yard more usable. During summer, being outside is ideal and you may have focused a significant portion of your attention on amplifying your backyard paradise. Now that your kids are back in school and the temperature is slowly but surely falling in the evening hours, it's only natural that you won't be spending entire weekends in your backyard or on your patio. Fall, however, is the perfect time to rework your outdoor lighting to focus on the areas of your yard that you're getting the most out of. It's also a good season to make sure all of your outdoor lighting needs are squared away before leaves start falling and then (dare we say it?) snow!
Adjust Your Lighting
As leaves fall and stunning garden arrangements start to disappear in the coming months, you should consider adjusting your lighting. Dimming lights on bare branches can help to make them less severe. Additionally, you should consider switching to LED bulbs, Dusk to Dawn Outdoor Lighting's preferred lighting option. That's because LEDs run cooler than older outdoor lighting bulbs, which are often halogen. As leaves fall, a hot bulb can become a dangerous fire hazard as well as harmfully heat plants during the day. LEDs help eliminate that potential problem!
You can also refocus your outdoor lighting on newly appearing fixtures in your yard. Flower gardens may no longer be a point of interest, but you can highlight the stunning color of autumn leaves instead. Remind yourself what you love about your home during this changing season with the right lighting strategy.
Extend the Life of Your Backyard
Although temperatures are cooling, you can still enjoy your evening hours outside! Using outdoor lighting to focus on the parts of your yard you use in the fall can help inspire you to get outside a little longer before winter. For example, if you're more likely to use your fire pit in the cooler fall months for s'mores and family bonfires, consider lighting that makes the ground around that area more accessible, preventing trip-hazards. You can also choose to light a pathway to that area for extended use.
Another example we love is making your deck or patio someplace you can enjoy well into the fall with stunning lighting plans. A simple back porch light may have worked when the days were long, but now that it's getting darker sooner, you need more lighting to enjoy evening dinners or get-togethers with friends on the deck. Consider installing lighting along the handrails or steps of your deck, or beautiful string lights to create a bistro effect. You'll want to spend all fall outside in the evening, even if it means having to throw on a light jacket!
Take Some Pre-Winter Precautions
Before it gets too cold and snowy to go outdoors, do a quick check of your outdoor lighting as it exists right now. Ask yourself these questions as you do a walk-through of your property:
Do I have any burned-out bulbs?
Are any of the lighting wires above-ground where they could be damaged by weather or animals?
Does any of my outdoor lighting need to be adjusted because we've changed our landscape? For example, if the swing set is brand new, you may want to consider installing additional lighting. If you have removed a bird fountain that was once lit, you may want to adjust your lighting design.
Set Your Timers (And Regularly Check Their Accuracy)
If you have timed outdoor lighting to light your yard from dusk to dawn, you'll likely need to reset your timer periodically during this season. Dusk comes sooner and dawn comes later and you want to make sure you're fully lighting your yard during those times for home security purposes. Adjusting your timers with some regularity through the beginning of winter will help assure you're getting the most out of your outdoor lighting.
Get Ready for Holidays
Winter holidays shouldn't be the only holidays where we get to have fun with lighting. We offer options for changing to colored lights during fall holidays, too! For example, creating a "spooky" effect for Halloween is something to consider. You can do this in several different ways, whether it's just choosing a colorful light to highlight tree branches or creating a "haunted pathway" effect to your front door for trick-or-treaters with blinking or colorful outdoor lighting.
Enjoy the Season
Fall is such a beautiful season. Problems with mosquitoes and other bugs tend to die down, leaves change, the weather cools off, and its generally beautiful outdoors. There's no reason to let the shorter days limit the time you get outside and enjoy your yard! Outdoor lighting can help you get the most out of this wonderful season. Happy fall!